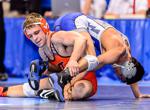 Photo by Tony Rotundo, WrestlersAreWarriors.com (Joey DANCE)
There shouldn't be any surprises here. Returning NCAA Champion, Nate TOMASELLO of Ohio State University, comes into the 2015-16 season as the number one wrestler in the nation. With veteran poise, the freshman was able to pick up wins over the No.1 seed, Alan WATERS (Missouri) and Zeke MOISEY (West Virginia) in route to his first national title.
Two time finalist, three time All-American, Nico MEGALUDIS (Penn State), looks to make his return to the Nittany Lion's lineup, and more importantly, to the Saturday night BIG STAGE after redshirting last season. With an entire season of rest, recovery and education under Coach Cael SANDERSON, there is no way not to put him No.2.
Lets move to the No.3 spot. "How could you put GILMAN at number two when MOISEY pinned him last season? Yes, MOISEY did pick up a HUGE first period fall over GILMAN to make it to the finals, but if that match is wrestled ten times, I think GILMAN wins majority of the time. I give all the credit in the world to Zeke, what he was able to do at the NCAA Tournament was a great story, but if I was to rank guys on their body of work at a SINGLE tournament, I would look like a fool.
Rounding out the top five, 2014 All-American, Joey DANCE of Virginia Tech. DANCE came into the NCAA tournament with a 31-4 record, with wins over both TOMASELLO and GILMAN. Though he did not have the NCAA tournament that he/everyone was expecting, he is still one of the most dangerous wrestlers in the nation.
Note: Nahshon GARRETT (Cornell), who will be bumping up to 133 pounds for the Big Red this season. Dylan PETERS (Northern Iowa) had a tremendous regular season. He was able to put together a good March in 2014. Look for him to get back to his winning ways this March, because he's a top eight guy.
Photo: Tony Rotundo (www.WrestlersAreWarriors.com)